We understand the importance of your time & appreciate your time given to go through our Introduction given below.
G.T. Tours & Travels is a practive travel organisation in the Indian Tourism Industry since 2007. We are professionally managed closely held agency and the management control is vested with the first generation promoter enterpreneur's transactions level operations are executed by a team of professionally qualified professional, who are well versed with the complexities of travels & tourism.
Since we specialize in selling Dubai as a destination since 2011 in the B2B vertical, we gradually have not only developed great relationship with our esteemed Travel Partners but also coz of our local presence in the Emirates & the kind of volume we have managed to deliver them substantially over the years, we definitely are in a position to offer a competitive rate to our Travel Agents with an impeccable service thought the tour.
• Choose an Established tour operator you can trust.
• Its our mission to offer you the adventure of a lifetime .
• Pre-purchased Hotels
• Fleet of Vehicles including Luxury Buses
• Expert guides in multi languages.
• Quality and value for money.
• Visa Assistance
• Travel Insurance - Evrails-Group
• Taylor Made Packages & MICE.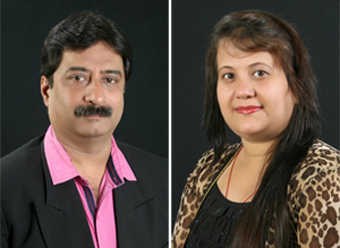 The duo with flying dreams
Rising from a humble background Prakash Vaswani and Neha Vaswani have created GT Tours and Travels, a name to reckon with in the industry today. The couple knows to strike a balance between small budgets and big dreams of those who love to travel. Maybe this trait has made the company a very reliable and friendly one. The love for hospitality industry brought the founders in the industry. And what started as a home-run venture snowballed into a multi outlet company.
GT Tours today besides its Borivili office has offices in Gandhinagar, Delhi, Thailand and Dubai. Their vision for the coming future is to enable several more travellers to explore the world at an ease on thier pockets. For this GT extends its hand to all its well wishers who have stood by them in the past and will hopefully do so in the coming years as well. Bon Voyage!.